Ebb and flow surface
Ebb and flow surfaces are equestrian surfaces with an integrated irrigation and drainage system made from a membrane (see 4.), drainage pipes (see 3.) and supply and discharge pipes.
In case of drought, water is automatically added by means of sensors. When it rains, excess water is drained off. (see 6.) Setting the water level to either high or low changes the hardness of the surface, determining how firm or loose it is. The system works much like a beach: when you get closer to the water line, the sand will be firmer, and when you get closer to the dunes, the sand will be looser. Hence the name "ebb and flow surface".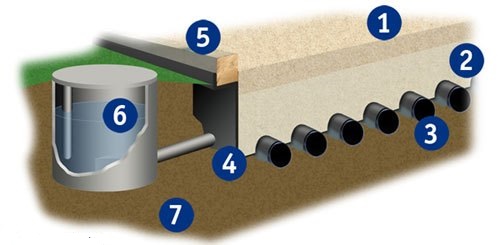 Top layer
Quartz sand
Drainage
Membrane
Concrete or wooden edging
Water balance tank
Foundation layer